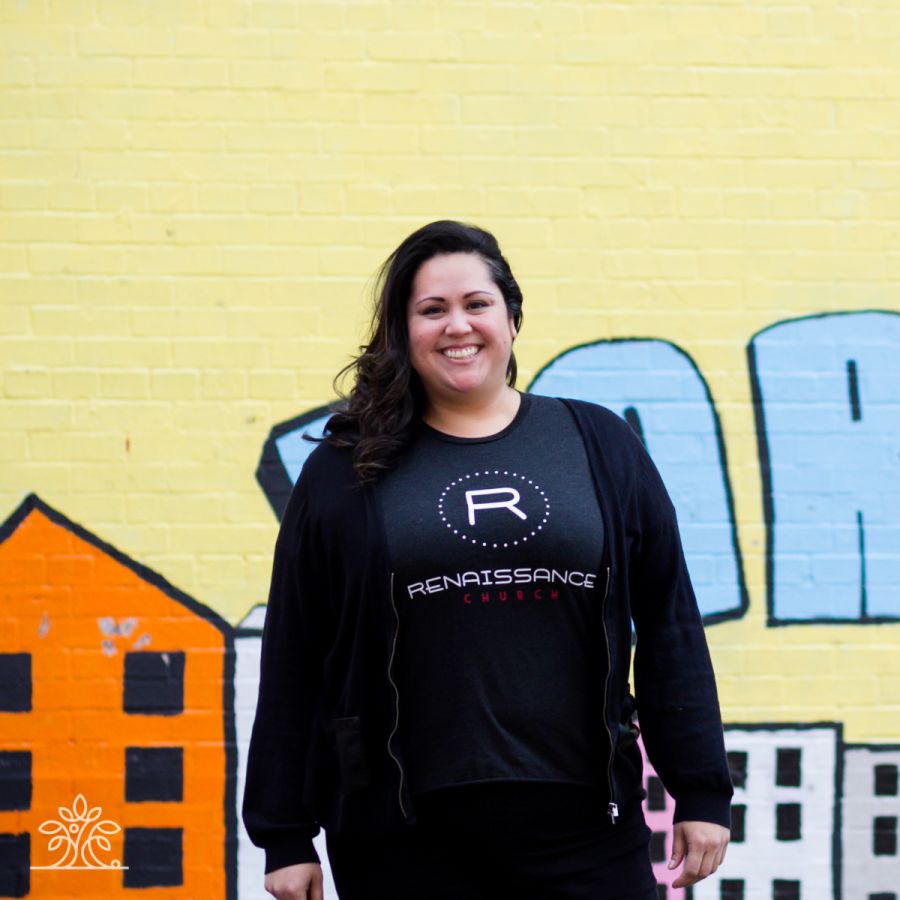 "Walking into a church again was uncomfortable." Meet Jema from Renaissance Church in NYC Jema appeared to have it all: great friends and family, a good job in a world-class city.  She did everything she could to feel complete and happy yet something was missing.  Jema admits that she had destructive behaviors that were keeping her from addressing her hurts and wounds.  The pursuit of success was a distraction keeping her from finding her true purpose in life. Aware of some deep needs that needed addressing, Jema went to Renaissance Church. But attending church felt awkward at first.  Jema decided…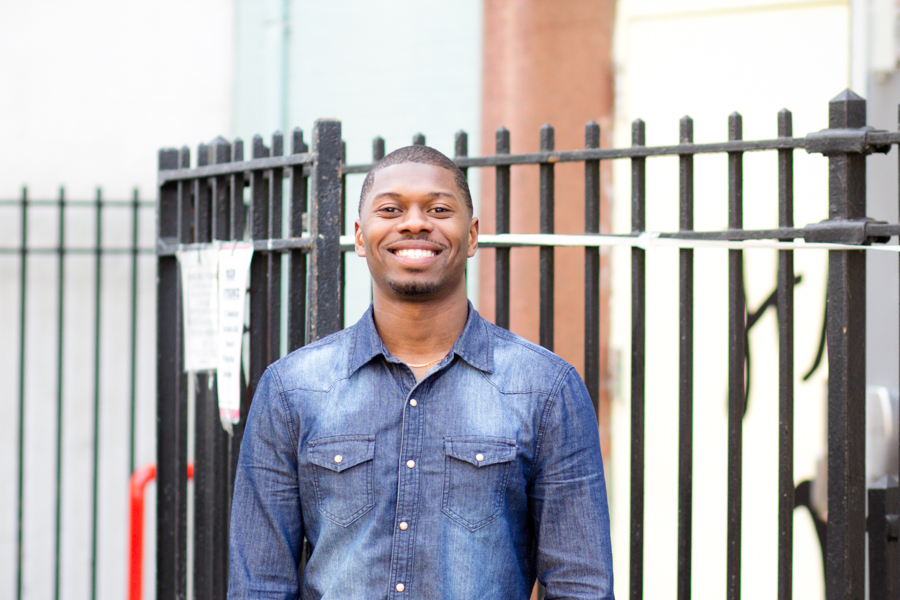 "When I first started volunteering, I thought it was for Renaissance. Then I realized it was helping me." Meet Moses, Renaissance Church. Moses was born and raised in Harlem. A few years ago, church and God weren't a priority for him. Through friends, he met Jordan Rice, the lead planter for Renaissance. Moses felt an immediate connection and started attending church regularly. The teaching each week was relevant to the issues Moses was facing. He started volunteering with the setup team on Sunday mornings, and has become an integral part of the Renaissance Church family. Because of Renaissance, Moses says,…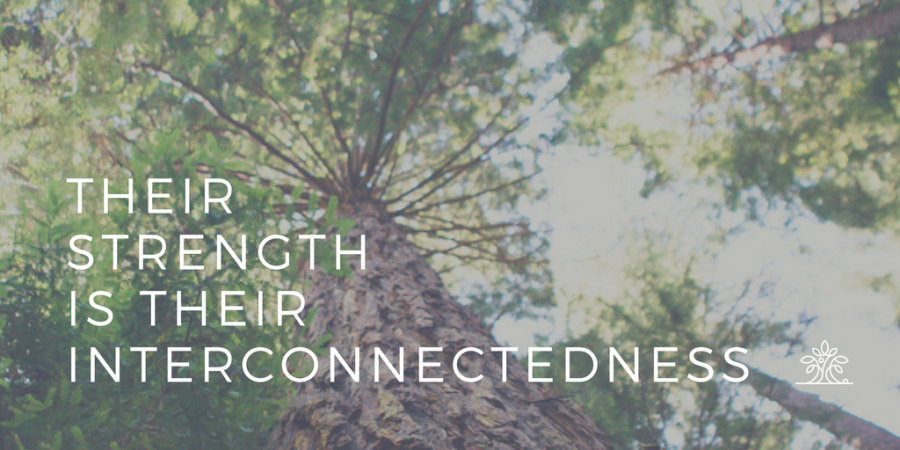 The Redwood groves in California are one of nature's wonders. These trees can grow to 275 feet high and 25 feet in diameter – large enough to drive a car through! Some of these trees are over a thousand years old, withstanding floods, fires, and strong winds.  With the tops of the trees reaching into the sky, one might assume that the roots go down hundreds of feet into the ground to support their height.  Surprisingly, the redwoods have very shallow root systems, sometimes only 12 feet deep. Unusually, the trees' roots reach out towards each other, interweaving to create a strong…
Over a period of years, Jordan Rice became increasingly convicted about the need for spiritual growth and change in Harlem.  He left behind his law career to study theology and entered a training program for church planting.  A year and a half ago, he led the launch of Renaissance Church in Harlem, NYC.  The church is now a thriving faith community! We're thrilled that Jordan is a part of the Orchard Group family. photos from Renaissance Church's launch Sunday: For over 60 years, Orchard Group has been launching churches in places like Harlem. The Global Cities Initiative continues this important work,…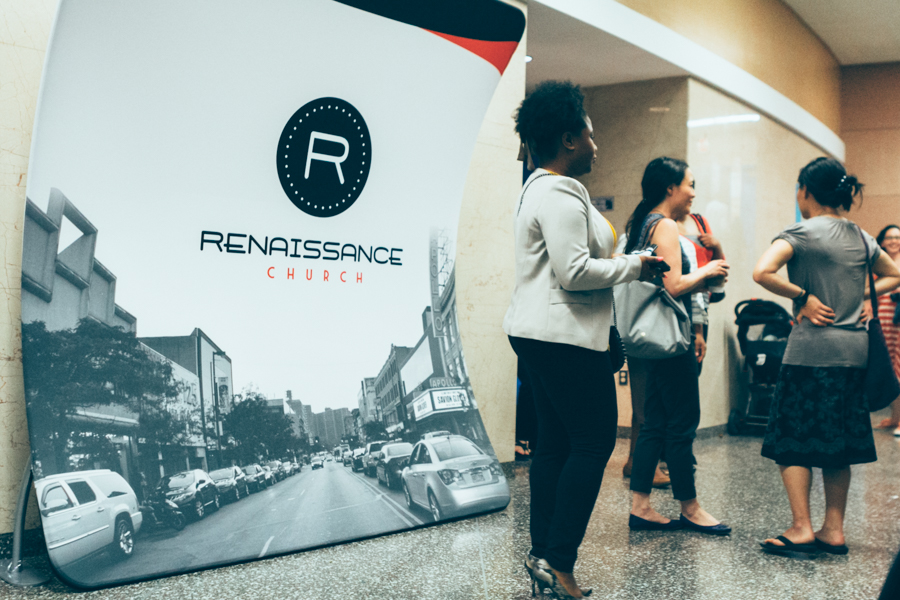 One of the most exciting times in a family's life is the birth of a baby.  New parents (and grandparents!) post photos to share in their joy.  Starting a new church is often compared to a birth.  Furious work happens behind the scenes for months.  Then everyone gets together to celebrate "Launch Sunday."  What was once behind the scenes is now public and ready to take its place in the world!  Launch Sunday is one of the highlights of the early life of a church. During September, two new churches were planted with the help of Orchard Group. Renewal Church-…
On September 21, over 200 people gathered to worship and learn about Renaissance Church!  Lead pastor Jordan Rice made a clear call to the gospel being central to the church's identity, and how they minister and serve in their community.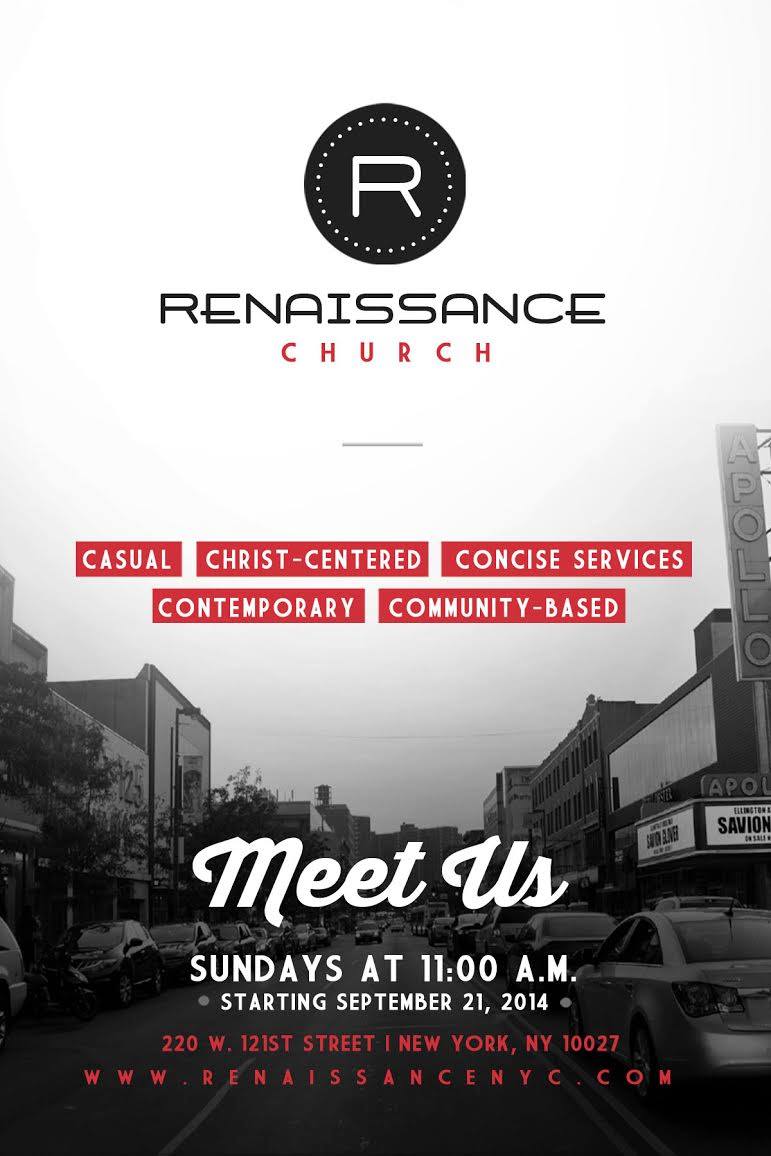 It's an exciting weekend for Renaissance Church! Launch Sunday is 2 days away. If you're in NYC, come out to Harlem to show them support. Everyone, everywhere can pray for God's presence to be moving in mighty ways through this new church community.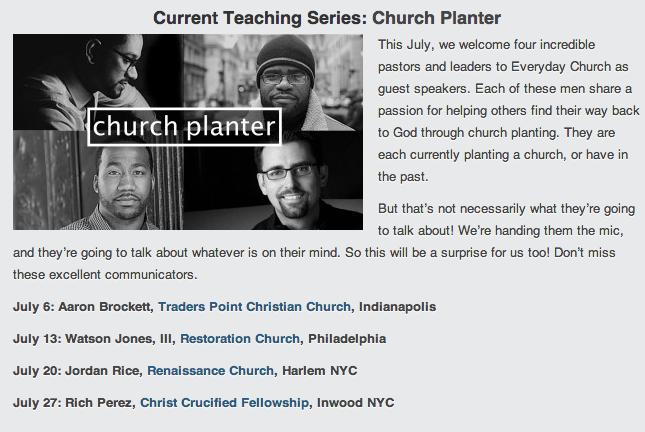 Everyday Christian Church has 4 top-notch church planters speaking this summer.  That's a lot of good speaking in one place!  Grab a cup of coffee, pull up a chair and give these guys a listen.  Aaron Brockett is on our Board of Directors and is the lead pastor of Trader's Point Christian Church.  Jordan Rice is the lead planter for Renaissance Church in Harlem and Watson Jones, III is the lead planter for Restoration Church in Philadelphia.